Mai Chau Ecolodge

The window to Mai Chau
MAI CHAU TOURS
Mai Chau Ecolodge - My Overall Experience
Posted date: 5/22/2017 9:56:54 AM
Having spent a few months smothered in the chaotic streets of Hanoi, my boyfriend and I decided that it was time to take a relaxing break from the bustling city life and reconnect with nature. Mai Chau Ecolodge provided us with just that. I didn't know much about Mai Chau before embarking on this journey, but I soon discovered it to be a true secret getaway, nestled in a cluster of rich rice paddies and traditional farmlands.
As it only took three hours to arrive in Mai Chau, we did not expect to be in world so contrasted to Hanoi. Our shuttle bus drove up the steep hill and we caught glimpses of flowing rivers and lush paddy fields. Once we stepped out of the car, were struck by a full mountain view, which overlooked enclosed valleys and tiny Thai villages. The scene was utterly picturesque, the air so fresh and the skies so blue, matching my own vision of an idyllic Vietnamese countryside.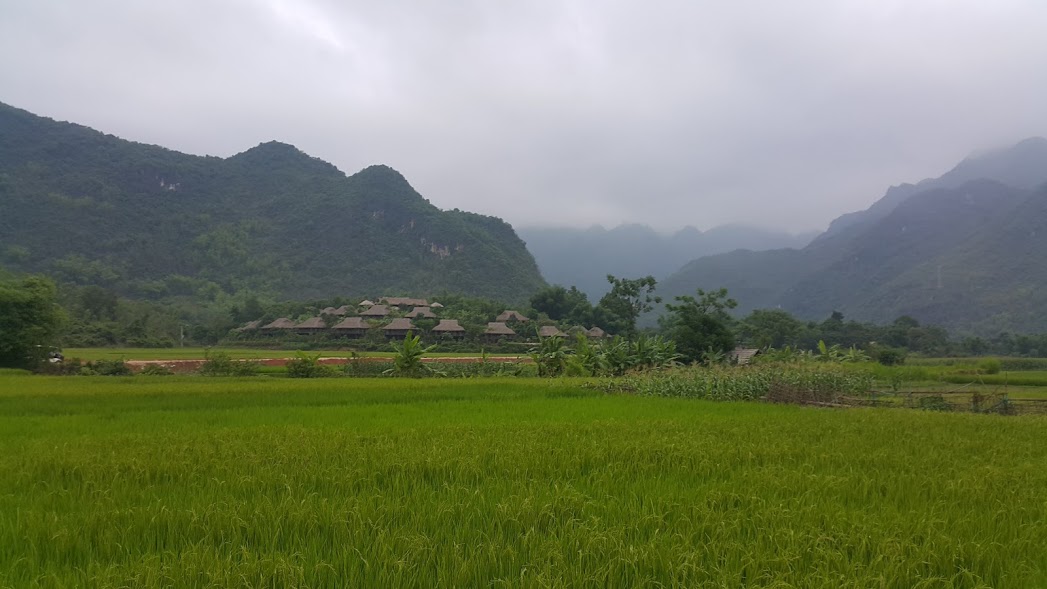 Upon our arrival at the Ecolodge, staff warmly greeted us with refreshing glass of ginger tea. We were then led through the leafy resort, passing by the large swimming pool and lodges which were sheltered by a generous amount of trees and flowers. This provided visitors with their very own beautiful garden, which also worked well as a barrier, ensuring visitors with enough privacy from the neighbouring lodges.
Once we arrived at our 'Junior Deluxe' style room, we amazed to find how spacious it was. Not only did this include a private garden with an outdoor shower, but the room was fully equipped with a lovely wooden bathtub, shower, hair dryer, a climate control unit, telephone, internet access, fresh fruit as well as tea and coffee making facilities. This was topped off by a magnificent mountain view of the region.
After unpacking, we made our way to hotel's restaurant which is perched on a hill, offering another spectacular panoramic view of the resort and village. We indulged in some of the finest traditional Vietnamese cuisine. The waiter attended to us as soon as we set foot inside and presented us with a set menu packed with 6 hearty courses. Soon after choosing our drinks from a menu of fruity cocktails, rich wines, decadent hot drinks and milkshakes, we were given our starters. A fresh and very flavour some papaya salad was followed by a range of succulent meats. For our main courses, beef, pork and chicken were all served in hot soups, crispy pastries and fried rice. Each meal was served hot and immediately after the next so that there was no waiting time. We were left fully satisfied and couldn't ask for more of a lavish dining experience.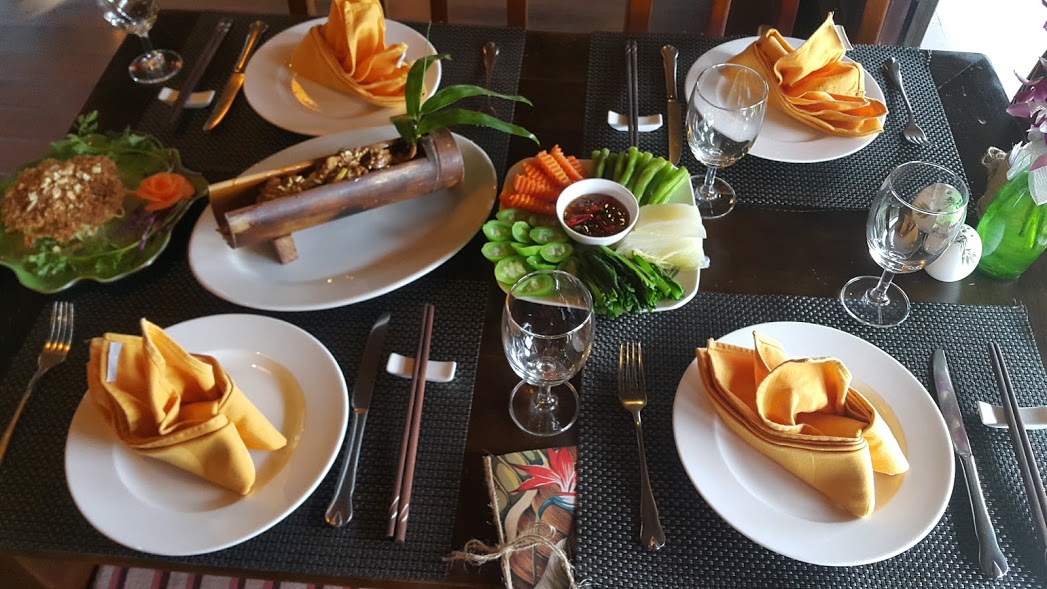 We had ate and it was time for some exercise. A casual bike ride through the local village sounded like a good idea. Blinded by colour, vibrant shades of blue and green blurred past me as I rode down the gentle slopes of the mountain. Further down the slopes, the land appeared bristled with small rice terraces. The yellows of the harvest were simply breathtaking. I enjoyed a close up view of the local community, being able to spot farmers harvesting in their paddy fields and women carrying food on their shoulder poles. Children dancing under the sunlight exchanged cheerful smiles with me as I rode past them. This was my first insight into community life at Mai Chau and I was in utter awe.
Upon arriving at local house, I learnt the white Thai to be a very self sufficient community. From producing their own cotton and weaving their own textiles, to harvesting crops and cultivating rice
It was all very impressive. We were even lucky enough to get an up-close tour of one of the locals' house - who was incredibly welcoming. As he showed us the many strenuous stages of rice production, I was able to understand the sheer hard work that goes into something we eat so often. I certainly felt a lot of admiration towards him.
We were busy enjoying some of his homemade rice wine when we realized it was time to head back for dinner. We hopped onto our bikes and raced against the slowly setting sun, passing through the narrow trails. By the time we got back, it was 7pm and we had arrived to a gloriously set candlelit dinner. The attention to detail was wonderful, from the flowers to the tea-lights. It was no surprise to me that the resort had advertised itself as a top romantic getaway. I couldn't be happier enjoying some of the most exquisite food, with a spectacular backdrop of nature in sight. Watching the sun set over the mountain and into the blue waters, made the atmosphere magnificent. It truly felt like my boyfriend and I were dining on top of the world. By far, this was one of the most unforgettable and luxury dining experiences I've ever been lucky enough to have.
The evening was almost over, but before we heading back to our bungalow we decided to catch some late night entertainment. We drank rice wine while watching vibrantly dressed ladies dance to some traditional folk music under the moonlight. These ladies were very persistent when asking us to participate and I had to decline many times. Yet after a few more glasses of wine, it wasn't long before I found myself dancing between some clanking bamboo sticks!
Finally, it was time to unwind. A hot bath seemed an ideal way to end my final night in Mai Chau. What can I say apart from my stay at the Ecolodge being one of absolute relaxation. The resort was an oasis of tranquility, certainly a place that I am already yearning to return to.
Share This