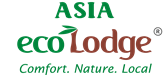 With more than 15 years of experience in the Ecotourism industry, we know that people, nature, and culture, are what matter most. Due to changes over the past two decades, we have dedicated our work to developing sustainable accommodations and activities that protect the environment and traditions of the local community. Our role in tourism is to establish an effective approach towards preservation. We utilize innovative ideas to minimize the ecological footprint and build a stronger future.
All our properties including Mai Chau Ecolodge – Can Tho Ecolodge are located amidst tranquil and beautiful natural settings, offering guests an enchanting way of being a part of these ecological havens. Each is a special symphony that showcases the unique charm of local architectural style, landscape, and culture.
These features make Asia Ecolodge a diverse but integrated collection of sustainable accommodations in the region.
Destinations
Hue Ecolodge

Located in an old tranquil village on the bank of Perfume River (only 7 km from the city center), HUE ECOLODGE offers an ideal retreat for anyone looking to discover something new. Allow yourself to be immersed in the serenity of local life with a visit to Hue's "sleeping beauty." Inspired by the natural and cultural elements of the region, our design was made to fit seamlessly into the luxury holiday while protecting the people and environment through various eco-practices. Here, you can enjoy your newest "home away from home."

more →

Can Tho Ecolodge

Located in the ancient Ba Lang village, this sight offers guests a relaxing stay in the picturesque countryside of Can Tho, while remaining only close to the city's lively downtown area.

Can Tho rests on the bank of the Ba Lang River, traditionally referred to as "the river of poems." The lodge reflects the architecture of native 'Garden Homes,' a famous style in this region. The city, the largest on the Mekong Delta, is unique among others in Vietnam. It is an ancient city, rich in nature, architecture, and art. Can Tho Ecolodge will continue to uphold our values of preserving local culture and helping to protect the environment, all while offering guests a luxury accommodation.

more →

Mai Chau Ecolodge

Located in northern Vietnam, Mai Chau is an alluring valley in the Hoa Binh Province. Not far from Hanoi, the area is hemmed in by hills, disconnected from the chaos of the city. Our Ecolodge is hidden deep in the valley, atop a private hill in Na Phon Village.

This secluded haven offers travelers breathtaking scenery in Mai Chau accompanied by the warm hospitality of the local community. We invite you to explore unique opportunities in this captivating environment and experience the traditional culture of the indigenous White Thai people.

more →